[Video] Florida Man Arrested After Robbing Store With Box On His Head
A Florida man is behind bars after he robbed a store with a box on his head to conceal his identity – only for it to slip off during the robbery, allowing authorities to see his face and catch up to him afterward.
The man, who authorities have not released the identity of, broke into the phone repair store at around 4 am Saturday. Footage shown on NBC 6 and shared by the store owner of Irepair Tech, which is located on NW 183rd St in Miami Gardens, shows the unidentified man smashing a glass display case with a tool and snatching several smartphones, all while wearing a box on his head in an attempt to conceal his identity.
Subscribe to Florida Jolt Newsletter!
At one point in the video, the thief accidentally drops his disguise, revealing his face to the camera, just before he leaves the store. Jeremias Berganza, the store owner, told NBC 6 that once he saw the man's face, he began to look around the plaza where his cellphone repair business is located and asked others to let him know if they saw the suspect. He also told NBC 6 that the suspect stole 19 iPhones and $8,000 in cash.
Eventually, the alleged thief was found in the same plaza drinking with buddies at a nearby liquor store, leading to his arrest by Miami Gardens police later that day.
Social media users were amused by the security video, with many comments underneath the YouTube post poking fun at his attempted concealment.
One user commented 'A REAL BOX HEAD' to make a joke out of the man and the situation while another user joked:
He was spotted later that day because he was still wearing the box.
Join your fellow patriots and subscribe to our Youtube Channel.
Reactions on Twitter were about the same, with many users poking fun at the thought that went into the cardboard disguise. 
How long did he work on that disguise?

— Sir Bob Knobber (@schlongtugger) June 5, 2023
Other users simply called the criminal what he is:
Love DUMB criminal 🤣

— Fashionking777 (@Fashionking7771) June 5, 2023
Police have not yet released the identity of the suspect or given out any more information about the robbery.
The video from NBC 6 is shown below.
---
Other stories you may want to read:
State Rep Rick Roth Enters Race for Chair of Local Republican Party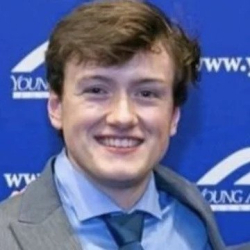 Latest posts by Simon Seidl
(see all)