Dem Governor Booed During Concert In His Own State – Crowd Scolded By Singer
Democrat governor of New Jersey Phil Murphy is being mocked after the governor received a thunder of boos after being introduced at a concert in his own state.
This all started at the Red Rock Tap + Grill in Red Bank, New Jersey, where the lead singer of the Brian Kirk & the Jirks – Brian Kirk – invited the governor on stage.
The now-viral video shows Murphy hugging the band members while the crowd loudly boos. In response to the booing, Brian Kirk goes up to the microphone to perform damage control. While pointing his finger to scold the crowd, Kirk goes on to say:
Hey, hey, hey, hey, hey, what did I tell you guys? Hey, listen to me, listen to me; he didn't want to hear that. He's a buddy of mine. This is not about politics. He's a friend of mine. Don't do that. Out of respect for my friend, don't do that.
Booing continues throughout the video – even during and after Kirk finishes his defense for the governor.
Watch @GovMurphy booed mercilessly by the crowd at Red Rock in Red Bank… pic.twitter.com/gDavJ8ytLz

— Matt Rooney (@MattRooneyNJ) July 8, 2023
Subscribe to Florida Jolt Newsletter!
The video was posted on Twitter by Matt Rooney, the founder, and editor-in-chief of SaveJersey.com – a news website that says in its mission statement that they 'firmly believe that New Jersey's official state motto – "Liberty and Prosperity" – should be much more than a rhetorically pleasing slogan.'
In two days since posting, the video has amassed almost one million views – with many reactions from the public to the embarrassing moment.
One user – who goes by the username @hondacb900f4 reacted to the video by asking who the band is – following up with saying, 'I wanna make sure I don't see [The band].'
Who's the band? I wanna make sure I don't go see them

— Drew V (@hondacb900f4) July 9, 2023
Another user went into more detail about their disdain for the governor, mentioning how they used to live in a town adjoining Red Rock and adding that it is a toss-uptoss-up between who is worse – Governor Chris Christie or Governor Phil Murphy.
I used to live in Fair Haven, the town adjoining Red Bank. It's a toss up who's worse. Him or Chris Christie.

— Jake ByTheLake (@Jake_ByThe_Lake) July 9, 2023
One user went as far as to call the governor and the band that considers him a 'friend' out on the businesses he has killed, saying that:
That friend of his killed a lot of small businesses in Red Bank. Never forget! – @DLM1130 on Twitter.
This tweet referenced the moment last year when Murphy's administration imposed multiple restrictions on breweries, including the limited food distribution and the number of private events they can host on-site. A bipartisan bill that passed the state Assembly and Senate last month to lift the restrictions has been sitting on Murphy's desk, but he has yet to signal whether he will sign it.
Join your fellow patriots and subscribe to our Youtube channel.
The unpopularity of the Democrat Governor comes after he has continued to push for the controversial plan of giving a massive tax break to Danish offshore wind developer Orsted for an energy project they are planning for the waters off the Jersey Shore. This project intends to begin construction on a wind farm of nearly 100 turbines.
Wind turbines have been gaining controversy after a rapid increase in endangered whale deaths in the past few years has led to lots of speculation. One expert told the New York Post that wind farm survey work – which uses acoustic pulses to scan the seabed ahead of drilling for the turbines – can be risky for whales since it can harm the marine mammals' sense of hearing – risking their crucial ability to navigate, and leading to more dead whales washing onshore. Offshore wind vessels typically use high-resolution geophysical (HRG) surveys during citing efforts, utilizing a 'suite of active sound sources' to obtain images of the seafloor and other geophysical features.
Some of these dead whales have allegedly washed ashore near the Governor's beachfront mansion within the past few years.
---
Other stories you may want to read:
Doctors Urged to Call Vaginas 'Bonus Holes' to Avoid Offending Trans Community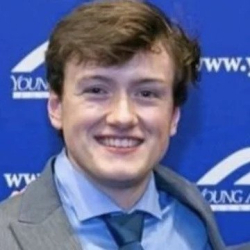 Latest posts by Simon Seidl
(see all)