Joe Rogan, Elon Musk Trash MSNBC After They Tweet Being Fit is 'Far-Right'
Twitter CEO Elon Musk and well-known podcaster Joe Rogan attacked the far-left media outlet MSNBC after they tweeted that fitness is a 'far-right obsession.'
This all started when the news outlet tweeted, 'The far right's obsession with fitness is going digital,' adding a link to their opinion article about why the 'far right' is into fitness. In the article, they ramble about how fitness tips gradually lure young men into 'neo-Nazi' chat groups where 'far right' content is shared.
They even go as far as to say that young men can get recruited through 'physical gyms, chat rooms, [live-streamed fights], tournaments, festivals, and even combat sports video games,' finishing off the article by saying '[t]he realm of online fitness now provides a new and ever-expanding market for reaching and radicalizing young men; and it requires our targeted focus and resources to try and stop the cycle.'
The far right's obsession with fitness is going digital https://t.co/saGOFXMn64

— MSNBC (@MSNBC) July 10, 2023
Subscribe to Florida Jolt Newsletter!
Once posted, the tweet generated millions of views and reactions, with people like Elon Musk and Joe Rogan mocking the irrational opinion article.
Musk had one of the most prominent reactions, responding to the article by saying, 'MSNBC thinks you're a Nazi if you work out' followed by a laughing statement.
MSNBC thinks you're a nazi if you work out lmaooo

— Elon Musk (@elonmusk) July 10, 2023
Other reactions include people laughing at the article, with one user declaring, ' 'The left want us unhealthy and fat like them.' The user adds that 'Misery loves company.'
The left want us unhealthy and fat like them. Misery loves company

— Sara Rose 🇺🇸🌹 (@saras76) July 10, 2023
Another prominent reaction, Joe Rogan, quote-tweeted the article and added his own tasty remarks to the article, with the response gaining over 17 million views as of the writing of this article.
Being healthy is "far right." Holy fuck. https://t.co/EZ8kqpX3mF

— Joe Rogan (@joerogan) July 10, 2023
Musk replied to Rogan's tweet by mentioning how
'Parody & reality are becoming indistinguishable.'
Rogan's response comes amid a history of the podcast show host calling out other leftist individuals for trying to connect fitness with being 'far-right,' with him going on a rant about it during one of his episodes.
there's a giant percentage of our population that is really lazy and fat. And if you want those people on your team, you have to say there's nothing wrong with being lazy and fat, in fact, not being lazy and fat is actually connected to misogyny, racism and fascism, and the far right, and then people are like, oh great, let's eat donuts and just f*cking vote blue.
ALX, a well-known political and social media influencer, responded to the reactions by saying how the news organization has tweeted out the article many times before to get the engagement they so desperately need – adding that the article was written over a year ago. He then added a screen recording of the influencer scrolling through a search result of the same controversial article being posted almost daily since late March – sometimes posted multiple times a day.
They keep Tweeting this article that's over a year old because they know it will get good (and much needed) engagement pic.twitter.com/FUnvpvKNwy

— ALX 🇺🇸 (@alx) July 10, 2023
According to the website USTVDB,  the viewership rate is down 18% during primetime, as of the average weekly audience measurement fog .
Other individuals reacted to the backlash by reacting with memes, with one user showing a meme titled 'Journalist' keyboards in 2023, adding the caption '[Alt-right] is my favorite key.'
Altright is my favorite key 🖥 pic.twitter.com/GGx1ZeNLXe

— Willy Goat 🐐 (@clntgrnhstn) July 10, 2023
Join your fellow patriots and subscribe to our Youtube Channel.
---
Other stories you may want to read:
Biological Man Wins 'Miss Netherlands 2023' – Will Compete in Miss Universe [VIDEO]
Trump Pundit Laura Loomer Denigrates Motherhood, Sparks Mass Outrage on Twitter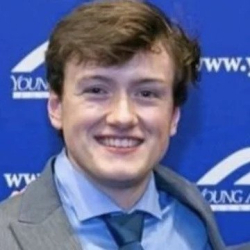 Latest posts by Simon Seidl
(see all)