[Video] Target Employees Threatened – Accept DEI Or Find New Place to Work
A viral video has come out on Twitter allegedly showing Target's Chief Diversity and Inclusion Officer Kiera Fernandez telling all Target employees in a Zoom call to accept DEI or find a new workplace.
The video, which is just over 1 minute long, shows Kiera Fernandez talking to a group of women, and within this group, she mentioned that 'You still have to do it to do this job; this isn't for everyone.' In this statement, she refers to people having to accept Diversity, Equity, and Inclusion principles or be fired. She claims that this acceptance is mandatory for anyone that wants a job at Target.
"You still have to do it to do this job" "This isn't for everyone"@Target Kiera Fernandez (Chief Diversity & Inclusion Officer and VP of HR) tells all of the Target employees to accept DEI or find a new place to work. pic.twitter.com/13P6FuyvmC

— Mythinformed (@MythinformedMKE) May 26, 2023
Subscribe to Florida Jolt Newsletter!
Besides Kiera Fernandez, we see four other women. The people seen in this clip are Ann Anaya, Chief Diversity Officer at 3M; Demetha Sanders, Global Head of Diversity, Equity & Inclusion at Cargill, May Thao-Schuck, VP of Career & Professional Development, St. Catherine University; and Allison Kaplan, Editor-in-Chief of Twin Cities Business, who was the moderator of the panel discussion.
The clip is taken from an hour-long panel discussion hosted by Twin City Business, titled on Youtube as: 'TCB.
Talks: Diversity, Equity, and Inclusion | BIPOC Women Rise to Leadership. The meeting was uploaded on June 28th, 2021, but the Twitter clip has just started making the rounds on social media.
The Twin City Business video has the following in its description:
BIPOC [Black, Indigenous, and People of Color] women comprise 20 percent of the U.S. population but remain significantly underrepresented in corporate leadership ranks, as noted in the 2020 Minnesota Census of Women in Corporate Leadership from St. Catherine University. What are the barriers to recruitment, retention, and career advancement?  Drawing on personal and professional experience, our expert panelists delve into the issues and solutions.
Reactions to the Youtube video and the viral clip on Twitter have been blunt and fierce, with many reacting in a way that calls for shareholders to respond accordingly.
If I were a $TGT shareholder, I'd be irate. People need to vote their own shares and stop giving theirs to BlackRock, Vanguard, etc. to aggregate power…

— Allan (@alynch1102) May 26, 2023
Join your fellow patriots and subscribe to our Youtube Channel.
Others declared obvious truths regarding the principles of DEI.
What distinguishes race based policy and practices under the heading of DEI from any other form of institutional racism?

— Paul Cunningham (@OkiePC1) May 27, 2023
Some have even gone as far as to question the legality of the concept of DEI.
Corporations forcing a political ideology on its employees is illegal.

— Mythinformed (@MythinformedMKE) May 26, 2023
Others within the replies mentioned how the stock market reacted to the DEI training and how the company has been served 'accountability.'
Accountability, eh?

The stock market just gave Target shareholders $9 billion worth of accountability.

I wonder if they (the stockholders, that is) will do anything about it.

— Fauxmaha (@J3ffMiller) May 26, 2023
As of today, there has been no official statement from Target regarding this additional controversy surrounding their company. This has all come to light after Target attempted to sell 'tuck-friendly' clothes for 'transgender children' made by a satanic transgender clothes designer.
---
Other stories you may want to read:
Target Partners With GLSEN-Change Children's Genders in Secret, Not Tell Parents
Bud Light Throws in Towel, Sponsors LGBTQ Events Across America as Sales Crater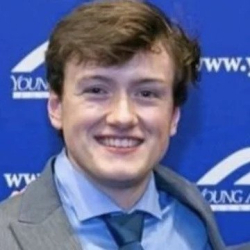 Latest posts by Simon Seidl
(see all)