TikTok Influencers Convinced Child To Become Transgender – Now She is Detransitioning
A teenage girl on TikTok says she is undergoing "detransitioning" after influencers convinced her to change her gender and undergo a painful process to become a trans male.
Ash Eskridge, a 16-year-old girl from Missoula, Missouri, recently revealed her experiences of transitioning from a girl to a boy – in addition to her detransitioning experience in an interview with the New York Post and on a post in a now-viral TikTok.
Eskridge details how she started this painful journey just after the pandemic – admitting that she was depressed at 12. While depressed, she used the app to cope with her emotional struggles, and when TikTok influencers started claiming that 'transitioning saved their life.'
With the content readily available for consumption, Eskridge then began explaining to the New York Post how she was brainwashed into becoming trans.
"Being transgender is definitely a TikTok trend that all began around 2020. I notice[d] that the demographic it most affects is teen girls around 12 to 14, as they're the most vulnerable since they aren't [mature] yet. I know that all of the kids who are also being pushed to [take part in the transgender] trend definitely think they're 100% right and that [TikTok didn't cause it] because that's how I felt, too.

But I'd say maybe 1% of the trans teens on TikTok are actually trans, the rest [of them], influenced."
Subscribe to Florida Jolt Newsletter!
A 2021 study on its sway, conducted by the Shanghai United International School in China, found that the digital space contains 'over-exaggeration content that shapes teenager's value in a misleading way.' According to 2022 Pew Research Center research, TikTok has a massive impact on up to 67% of teens 13 to 17.
When Eskridge came out to her parents, Sean and Darcy, they claimed that they were initially doubtful that their daughter was transgender, but they eventually came around and supported her decision to transition.
In an interview with SWNS, the mother broke down the events surrounding Ash's supposed admission that she was trans.
She told us she was trans. It was after Covid, and she was at home a lot. She started spending too much time on TikTok, watching influencers who were saying how they went through the same thing [and] how they had transitioned and it made them happy. We questioned Ash and pushed back, [and] we told her we would accept her for who she is but how we didn't feel this was the right path for her.
The parents' concerns were not enough to change the mind of Ash, with the teen eventually changing her legal name to 'Greysen,' all while presenting a short haircut and sporty clothes.
Things started to become off when Ash started taking testosterone at 16, with her admitting that the drastic changes to her body felt extremely 'unnatural' and 'exhausting,' with the teen revealing that while taking the hormone she 'missed being a girl.'
The breaking point during her transition was when she had a dream that she was a girl, with this dream snapping her back to reality by making her admit that she did not want to be trans anymore.
Ash detransitioned in April 2023 with her parents in full support.
Ash also shared her story in a TikTok video, which has currently amassed over 2.2 million views and over 264,000 likes, she explains that during the whole process, she only went to one doctor's appointment. She also claimed that her mental health was not properly assessed before she was given instructions on the next steps toward becoming a man.
Reactions to this TikTok were mainly positive, with many user commenting on how brave she was, while others were saying that this kind of subject isn't talked about enough.
Join your fellow patriots and subscribe to our Youtube Channel.
---
Other stories you may want to read:
New College of Florida Shatters Enrollment Record, Unveils Free Speech, Athletics Initiatives
Musk Threatens to Sue Zuckerberg's Copycat Platform – Users Furious -Delete Threads, Delete Instagram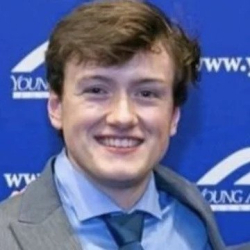 Latest posts by Simon Seidl
(see all)