Musk Threatens to Sue Zuckerberg's Copycat Platform – Users Furious -Delete Threads, Delete Instagram
Elon Musk's Twitter is threatening to file a lawsuit against Mark Zuckerberg's Meta after their latest platform has been accused of being a 'copycat' and 'unlawful misappropriation of Twitter's trade secrets.'
The platform, Threads, is described as the 'Twitter Killer' and a 'Twitter lookalike app' on social media, allowing users to post up to 500 characters of text and up to five minutes of video. The new platform calls tweets' threads' and retweets' reposts.'
Alex Spiro, the lawyer that represents Twitter, wrote a cease and desist letter to Mark Zuckerberg regarding the concerns that Twitter has about the new platform, including accusations that Meta hired former employees to help make this app – despite them having 'ongoing obligations to Twitter,' as well as the concern that Threads has unlawfully obtained 'Twitter trade secrets' from those obligated employees.
Based on recent reports regarding your recently launched "Threads" app, Twitter has serious concerns that Meta Platforms ("Meta") has engaged in systematic, willful, and unlawful misappropriation of Twitter's trade secrets and other intellectual property. 

Over the past year, Meta has hired dozens of former Twitter employees. Twitter knows that these employees previously worked at Twitter; that these employees had and continue to have access to Twitter's trade secrets and other highly confidential information; that these employees owe ongoing obligations to Twitter; and that many of these employees have improperly retained Twitter documents and electronic devices. With that knowledge, Meta deliberately assigned these employees to develop, in a matter of months, Meta's copycat "Threads" app with the specific intent that they use Twitter's trade secrets and other intellectual property in order to accelerate the development of Meta's competing app, in violation of both state and federal law as well as those employees' ongoing obligations to Twitter. 

Twitter intends to strictly enforce its intellectual property rights, and demands that Meta take immediate steps to stop using any Twitter trade secrets or other highly confidential information. Twitter reserves all rights, including, but not limited to, the right to seek both civil remedies and injunctive relief without further notice to prevent any further retention, disclosure, or use of its intellectual property by Meta.
Besides possible legal action, Threads was hit with a furious backlash by users when they realized that deleting their Threads account also deleted their Instagram account.
I deactivated my threads account already but it turns out you can't delete your threads account *without also deleting your Instagram account* so maybe just don't sign up!

— emily hughes ✨ (@emilyhughes) July 6, 2023
I just immediately muted everything on it and left it to rot

— Dread Singles (@hottestsingles) July 6, 2023
Everyone running back to Twitter after trying Threads App for 5 Min 😂#Threads #ThreadsApp #ElonMusk#MarkZuckerberg #ElonVsZuckerberg #ElonMusk pic.twitter.com/XXHw8OKmY0

— Yash Barapatre (@nikunimje) July 7, 2023
Of course, the usual draconian Facebook censorship was enforced on Threads, also.
Let's check in on threads 🤡 pic.twitter.com/2qObN72GBW

— Garbage Human (@GarbageHuman23) July 7, 2023
Subscribe to Florida Jolt Newsletter!
This new app comes after Musk decided to purchase Twitter in late October 2022 for $44 billion – in addition to Musk firing roughly 75% of its 7,500-person workforce after the acquisition.
Upon the new app's release, Zuckerberg noted that he had 30 million sign-ups the same day the app was launched. Zuckerberg also made digs at Twitter this past week, with the Facebook creator saying he believes there should be a public conversations app with one billion+ people. He also mentioned that Twitter has had the opportunity to do this but hasn't nailed it – adding that he hopes this app will make that achievement.
Reactions to the new app varied, with some users praising the new app while others complained about 'bugs' and the 'lack of basic features' on Threads.
Some users decided to make jokes from the new app, with one user writing the caption 'Everyone coming back to Twitter after trying Threads App for 5 Min' following a video showing an escalator malfunction.
Everyone coming back to Twitter after trying Threads App for 5 Min 😂#Threads #ThreadsApp #ElonMusk#Meta #Snapchat #MarkZuckerberg pic.twitter.com/eAHvHgwJkb

— Ashutosh Srivastava 🇮🇳 (@sri_ashutosh08) July 6, 2023
The most noticeable reaction comes from Musk, who made a flurry of Tweets about Threads.
He made one tweet simply saying, 'Competition is fine, Cheating is not' in response to the news about the new app.
Competition is fine, cheating is not

— Elon Musk (@elonmusk) July 6, 2023
In response to the lawsuit, a spokesperson for Meta, Andy Stone, wrote a post on Threads saying, ' No one on the Threads engineering team is a former Twitter employee — that's just not a thing.'
As of the writing of this article, Zuckerberg has not made any official response to the cease and desist letter.
Join your fellow patriots and subscribe to our Youtube channel.
---
Other stories you may want to read:
Justice Jackson MAKES STUFF UP in Affirmative Action Dissent
'Gender Queer' & 'White Fragility' Recommended by Teachers Union for Summer Reading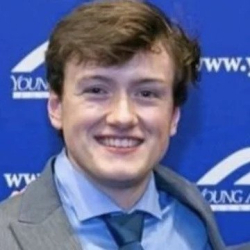 Latest posts by Simon Seidl
(see all)