[Video] Armenian Parents Fight For Children Against Groomers and Antifa
A group of Antifa members was completely shut out by parents yesterday in Glendale, California, as tensions rise over LGBTQ propaganda being taught to children for pride month.
This all started when a bunch of parents, many of them being Armenian American, gathered outside the Glendale school board meeting to protest the sexual indoctrination of kids through LGBTQ brainwashing.
In response, members of Antifa, the terroristic left-leaning group that has caused significant mayhem, showed up to counter-protest. Eventually, there were around 200 protestors and counter-protestors, with the city sending around 50 officers to the meeting to prevent scuffles among the groups. Most protestors wore gray shirts that said 'Leave Our Kids Alone.'
Scuffles began after yelling from the Armenian Americans started when Antifa began their counter-protest, with the yelling eventually becoming punches and haymakers from the protesters towards Antifa members.
When the fights began to break out, the cops were quick to swoop in and separate the Armenian Americans from the Antifa members, with at least three people being arrested, all accused of using pepper spray and obstruction, according to CBS news.
Subscribe to Florida Jolt Newsletter!
Three different clips of the incident were posted to Twitter by Andy Ngo, who describes himself as a 'Journalist & author of NYT bestseller, [Unmasked],' and all three videos have garnered millions of views.
Ngo's tweets detail how 'Many parents of immigrant background disapprove of the schools celebrating pride events.' He mentions this because Glendale is known to have a sizeable Armenian immigrant population, with most of those immigrants being Christian.
Reactions from this incident were very driven, with many people appreciating that these parents took a stand for their kids.
Bravo!
Glendale is a huge Armenian community.
Fighting the woke degenerates to stand up for America.

— The Honker (@Honker0) June 7, 2023
Frankly, we need more of this. Time to make a stand and fight back!

— Rob J (@rahearn1962) June 7, 2023
Another person talked about how Armenian parents care about their kids.
Armenians aren't shy about keeping predators away from their kids.

— Electronzap (@electronzap) June 7, 2023
Join your fellow patriots and subscribe to our Youtube Channel.
Many replies were of memes that opposed pride month and the LGBTQ movement.
Parents vs pedophiles pic.twitter.com/ranJ5efSIi

— Ivan Pain (@EagleMMAPain) June 7, 2023
One person replied with optimism, stating how these LGBTQ events will inspire immigrant communities to vote Republican.
Fantastic – they're going to red pill the immigrant communities. Future Republican voters

— Scandinavian_Patriot (@BeHeadR) June 7, 2023
In a statement, the Glendale school district about the rising tensions between the people for and against LGBTQ propaganda.
In Glendale Unified, we are committed to providing a safe, inclusive environment where every child can learn and thrive.  We know that kids do better when their parents are involved in their education. We work with parents as partners and encourage all parents and other caregivers to be inquisitive and engaged with what is going on in our school community. Let's continue to work together, commit to having difficult conversations, ask questions, and maintain a civil discourse for the benefit of all students.
This anti-grooming sentiment is growing as pride month kicked off at the beginning of June. This June is the first pride month in which Conservatives have successfully pushed back against the grooming of society and children. With the Budlight and now Target boycotts showing results, it is very likely that events like these will motivate other like-minded individuals to step up and fight back against the agenda being pushed on kids.
The three different clips are all posted below, with one angle showing a helicopter shot and the other two showing ground footage of the event.
Breaking: Armenian-American men fight against #Antifa & far-left protesters outside the Glendale (CA) school board meeting. Immigrant families have been furious that elementary schools are doing pride events. Antifa have gathered to oppose the parents. pic.twitter.com/1LCTeCgc32

— Andy Ngô 🏳️‍🌈 (@MrAndyNgo) June 7, 2023
Breaking: Glendale (CA) Police beat back the Armenian-American men who want to fight #Antifa outside the school board meeting. The immigrant families oppose pride celebrations in schools. Antifa, communists & far-left protesters gathered to support that. pic.twitter.com/QTMmKeNR95

— Andy Ngô 🏳️‍🌈 (@MrAndyNgo) June 7, 2023
Glendale (CA) police rush in and save #Antifa & far-left protesters during a fight against Armenian-Americans outside a school board meeting. Many parents of immigrant background disapprove of the schools celebrating pride events. pic.twitter.com/i1L2P1aBxt

— Andy Ngô 🏳️‍🌈 (@MrAndyNgo) June 7, 2023
---
Other stories you may want to read:
[Video] Christian Man Arrested for Quoting Bible at Pride March & Rally
Democrat Governor Poses with Anti-Christian LGBTQ Group in Resurfaced Photo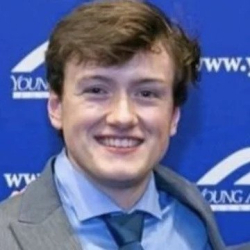 Latest posts by Simon Seidl
(see all)