'Boycott Target' Song Hits #1 On iTunes Music Chart
A rap song dedicated to the Target Boycott has officially hit the #1 slot on the iTunes rap and hip-hop chart and all other music charts.
The song, 'Boycott Target,' was created by Forgiato Blow and Jimmy Levy, who is part of a Pro-Trump rap group. The song also features Nick Nittoli and Stony Dudebro.
The viral song starts with the rappers saying that "There's a cleanup on every aisle/Target is targetin' your kids, this agenda's gotta stop, they know we gonna win." and encourages listeners to continue the Target boycott, with the first lyrics of the song explaining why listeners should boycott the store chain. The music video for the song was filmed inside a Target, and ever since it was uploaded to Twitter on May 25th, it accumulated around 4.4 million views.
They put a Target on my back, but they're targeting your kids. They don't even need the cash, cause you know what it is, that's why I keep the strats and I'm always  Put A Target On My Back, But They're Targeting Your Kids. They Don't Even Need The Cash, cause You Know What It Is
That's Why I Keep The Strats
And I'm Always [?]
This Is Gently Gotta Stop
Then You Know We Gonna Win
Why Is #Target Targeting Our Kids?

Retweet If You Support #BoycottTarget pic.twitter.com/z9cEkLoShi

— Trumps Nephew (@ForgiatoBlow47) May 25, 2023
Subscribe to Florida Jolt Newsletter!
The song then goes into the main chorus, where they offer a very straightforward message about the damage that Target is 'targeting' kids. 
When they Target, Target yeah they Target and
Target, Target yeah they Target kids
Target, Target yeah they Target and
Target, Target yeah they Target kids
The song uploaded online on May 25th surpassed songs made by current rap and hip-hop behemoths such as Lil Durk, Drake, and Kodak Black, who have all had songs get millions of plays and millions watch their music videos.
Two days after the song was uploaded, one of the rappers featured in the song, Jimmy Levy, tweeted that the Boycott Target song was the most censored song he ever uploaded, following up that statement with pieces of evidence he found proving this to be the case:
This is the MOST censorship on a song that I've ever witnessed in my life.
– They are literally hiding the song from the search engine on iTunes.
– Instagram also made me remove the link from my bio so that people can't get a copy of the track.
– They are scared of the…

— Jimmy Levy (@JimmyLevyMusic) May 28, 2023
Join your fellow patriots and subscribe to our Youtube channel.
Even with the censorship, the song has still accumulated millions of plays and shares, surpassing all other music genres to be put in the number-one spot on all music charts. This song has exceeded songs made by Taylor Swift, Selena Gomez, Morgan Wallen, Luke Combs, and other music giants.
🚨🚨🚨 BREAKING 🚨🚨🚨

'Boycott Target' has reached NUMBER 1 on all music charts.

Major congrats to @ForgiatoBlow47 & @JimmyLevyMusic for this massive cultural win for our movement. pic.twitter.com/0KFy4UnAky

— Benny Johnson (@bennyjohnson) May 30, 2023
Reactions on Twitter have been celebratory, with many saying this is a cultural win for the conservative movement, with some saying that the tables are finally turning on the left.
Finally the tables are turning. Love to see it!

— Josip Šokec 🇭🇷 (@crotweet) May 30, 2023
This cultural victory comes after the New York Post reported that Target lost more than $10B over the past few days due to the boycott. Target initially enjoyed its stock value at $160.96 a share, but following calls to boycott the Minneapolis-based retailer over its  LGBTQ collection, the value plummeted and closed Friday at $138.93. This drop means that $10.1 billion was lost in valuation for Target.
---
Other stories you may want to read:
Disney Hires Man In Dress As Greeter for Little Girl's Boutique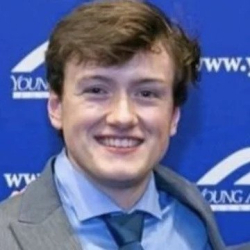 Latest posts by Simon Seidl
(see all)