[Video] Joe Rogan Destroys 'Mentally Ill' Dylan Mulvaney In Epic Rant
The popular podcast host Joe Rogan recently went on a lengthy rant about the 'mentally ill' Dylan Mulvaney in an epic segment with rapper Ice Cube.
During the segment, Rogan described Mulvaney as a 'mentally ill attention whore' and added that companies that do ridiculous stunts like Bud Light do not understand their consumer base.
Take a brand like Bud Light. It's for blue-collar drinking people and they like to watch football and drink Bud Light, and then all of a sudden, you have this mentally ill person who's just an attention whore.
Rogan also went on about companies in general who pull Bud-Light stuff by saying:
People are sick of this shit. They're sick of social things that are controversial, getting stuffed into your face and where you have to accept it, and people are like, 'I don't wanna accept it. I'm just here for f*cking toilet paper.'
.@joerogan: "You take a brand like @budlight – known for blue-collar drinking people…

You have this mentally ill person [Mulvaney] who's an attention whore…'365 days of womanhood'…on a Bud Light can…

Once @KidRock shoots your cans, you got real problems." pic.twitter.com/LGKNDk1xcf

— Daily Caller (@DailyCaller) July 3, 2023
Subscribe to Florida Jolt Newsletter!
Rogan starts his rant by mentioning that the only time he respects other people's opinions is when people boycott stuff, and it works, comparing that statement to the successful Bud Light boycott.
Ice Cube then chimes in to ask about the control of Bud Light and why the company would make a dumb decision like that?' Ice Cube speculated that this was intentional sabotage of 'iconic, American brands' since this decision was ridiculous.
Rogan then chimes in and says that he does not think the company had any plans of this happening, mentioning that this situation is 'an ESG thing,' adding that ESG makes people dedicate time to 'woke stuff.'
According to a Fortune article that talks about Congress's war against ESG,  people are against the practice of Environment, Social, and Corporate governance, saying that,
ESG investments allocate money based on political agendas, such as a drive against climate change, rather than on earning the best returns for savers. They say ESG is just the latest example of the world trying to get 'woke.'
After talking more about ESG governance, Rogan then chimes in by saying that there is another factor in this issue, and that is that 'you get these people out of college [like] this lady who decided for Bud Light,' adding that the lady has 'gone through the University system.' She thinks that companies 'have to be more inclusive' by pandering to specific communities. Rogan correctly states that these woke pro inclusive people fail to realize that 'they don't know any real people,' so they always miss the mark with proper marketing strategies.
Rogan follows this up with his attacks on Mulvaney, following his attacks on Mulvaney by mentioning that 'once Kid Rock shoots your cans, it's on!' Rogan refers to Kid Rock taking to social media to shoot up a case of Bud Light with an MP-5 Sub-machinegun after the controversies surrounding Bud Light started brewing.
As of the beginning of June, The company has lost roughly $27 billion in market value since Bud Light went woke and teamed up with Mulvaney, according to Fox Business. 
Join your fellow patriots and subscribe to our Youtube Channel.
---
Other stories you may want to read:
Some Fireworks Shows in CA Canceled Over 'Environmental Concerns'
Joy Reid Shredded After Claiming Harvard Only Admitted Her Through Affirmative Action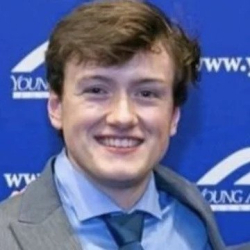 Latest posts by Simon Seidl
(see all)