Trump Campaign Hit With Flurry of Twitter 'Community Note' Fact Checks
Several Twitter accounts associated the Trump 2024 campaign have been hit by a flurry of "community note" fact checks recently, in a sign that the GOP primary season is starting to ramp up.
According to the New York Post, as many as 7 notes were published hitting Trumpworld accounts, with some going as far as to claim that the content published was completely false.
Some of the tweets hit with community notes came from the account Trump War Room, which describes itself as "The Official War Room account of the 2024 Trump campaign." Another account hit with community notes was the account of Trump campaign spokeswoman Elizabeth Harrington.
On May 25th, Harrington made a tweet showing a campaign press release with the caption "Ron DeSantis Voted For The Exact DACA Bill Over Which He Is Now Attacking President Trump," which the community notes labeled as false. The following was the reasoning they gave to assert that decision:
"The bills were not nearly identical, as the Trump campaign claims. DeSantis voted for the conservative Goodalite Bill that did not provide a path to citizenship. DeSantis voted against the Compromise Bill that did provide a path to citizenship. Trump endorsed them both."
Ron DeSantis Voted For The Exact DACA Bill Over Which He Is Now Attacking President Trump pic.twitter.com/r6CFdjQjjl

— Liz Harrington (@realLizUSA) May 26, 2023
Subscribe to Florida Jolt Newsletter!
Another tweet, made by the Trump War Room account, showed a video from Palm Beach in April of 2020, which it claimed depicted protests against the lockdowns happening throughout the country. The caption asked the viewers:
"Does this look like a 'Free State' to you?"
But soon after, the tweet was slapped by a community note, which gave clarification on the real meaning of the protests.
"This video was of a South Florida protest in April 2020. As the audio in the embedded video relays at 0:45, 'Palm Beach County leaders standing firm to keep current [local] measures in place' …even though state-wide orders were set to expire April 30."
Does this look like a "Free State" to you? https://t.co/QCwYNep7wM pic.twitter.com/k7KdqTalE0

— Trump War Room (@TrumpWarRoom) June 2, 2023
Join your fellow patriots and subscribe to our Youtube channel.
A Tweet from the Trump War Room claiming that Trump "won BIG" in in the 2016 Iowa primaries also got hit with a fact check, clarifying that Ted Cruz had in fact taken first place in the contest.
Community notes for the win yet again!!! 🙌

— MehMonica #TeamSanity (@mehonitall) May 17, 2023
However, Trump supporters seemed unfazed by the fact checks, and continued to show support for the former president.
Djt💖🌺😇

— Rosanna Gacutara (@RosannaGacutar2) June 2, 2023
Even with the community notes fact checking the former president's campaign, his poll numbers do not show a decrease in support.
On June 1, a Premise presidential poll was published by the website FiveThirtyEight, showing Trump with a 31 point lead over DeSantis for the GOP presidential primary, as well as a two point lead over Biden in the presidential election. It also shows Biden having a one point lead over DeSantis, in a hypothetical presidential matchup.
🚨 NEW NATIONAL POLL

PRES:
(R) Trump: 44% (+2)
(D) Biden: 42%

(D) Biden: 39% (+1)
(R) DeSantis: 38%
.
GOP PRES:
Trump — 54% (+31)
DeSantis — 23%
Pence — 5%
Cheney — 4%
Haley — 3%
T. Scott — 2%
Christie — 2%@premisedata | 05/29-06/02 | RVshttps://t.co/Vl7n24Yubw

— InteractivePolls (@IAPolls2022) June 2, 2023
---
Other stories you may want to read:
Biden Administration Hit with Second Lawsuit from AG Moody Over Immigration
Swimmer Riley Gaines Trades Trump for DeSantis in 2024 Presidential Endorsement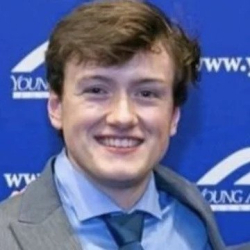 Latest posts by Simon Seidl
(see all)