Simpson Revokes Nikki Fried's Banning of FDLE from Entering Agriculture Dept. Capitol Offices
Florida's newly elected Department of Agriculture Commissioner, Wilton Simpson, revoked former Democrat Commissioner Nikki Fried's verbal policy that banned the Florida Department of Law Enforcement from entering the Department of Agriculture and Consumer Services Capitol Offices.
Subscribe to Florida Jolt Newsletter!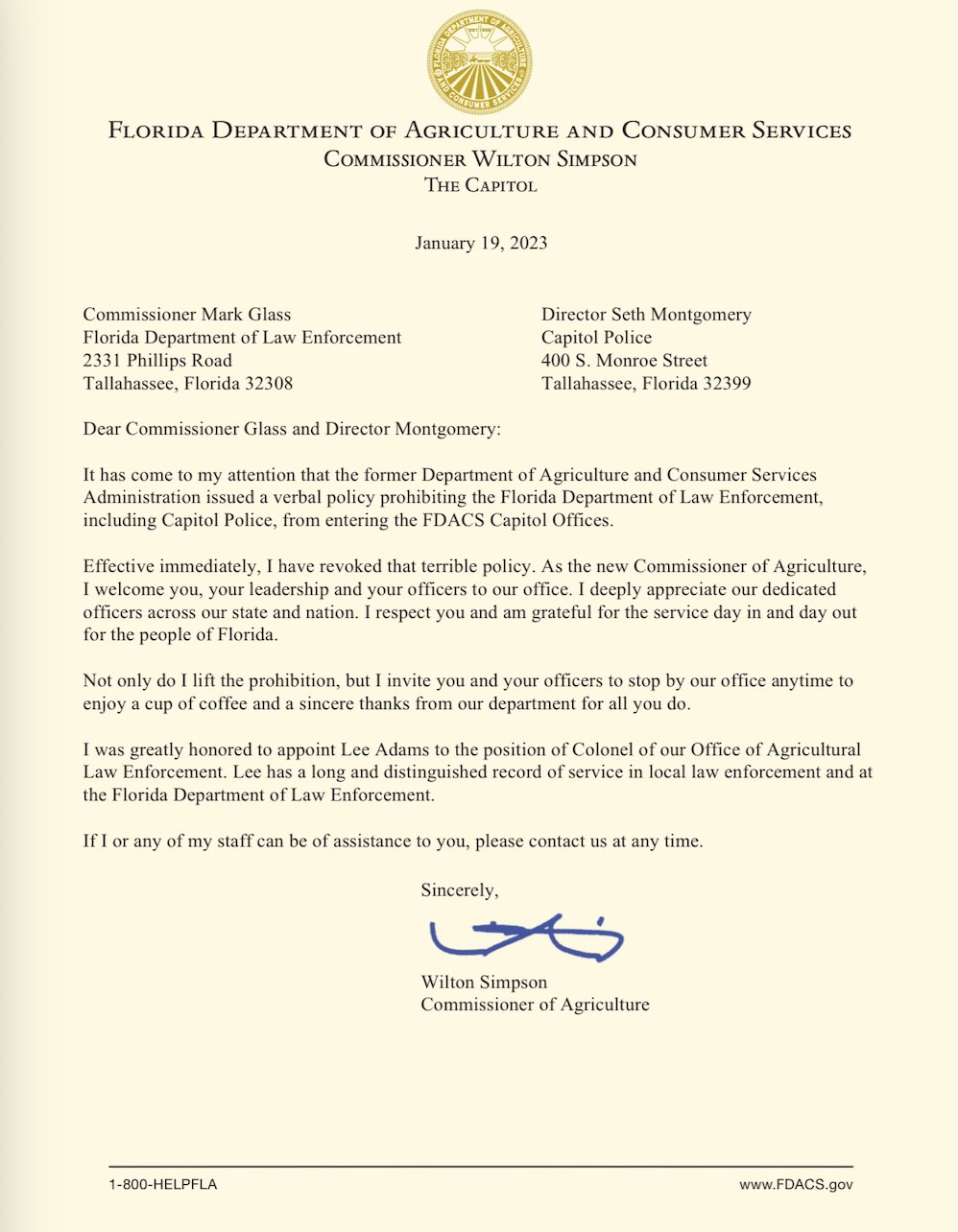 In a letter to Commissioner Mark Glass, Simpson wrote:
"It has come to my attention that the former Department of Agriculture and Consumer Services Administration issued a verbal policy prohibiting the Florida Department of Law Enforcement, including Capitol Police, from entering the FDACS Capitol Offices,"
"Effective immediately, I have revoked that terrible policy," Simpson said.
Follow Florida Jolt on Twitter
"As the new Commissioner of Agriculture, I welcome you, your leadership and your officers to our office. I deeply appreciate our dedicated officers across our state and nation. I respect you and am grateful for the service day in and day out for the people of Florida."
Commissioner Simpson invited officers to stop by the office "anytime" for a cup of coffee and "a sincere thanks from our department for all you do."
The commissioner noted that he was "greatly honored" to appoint Lee Adams to the position of Colonel of the Office of Agricultural Law Enforcement.
"If I or any of my staff can be of assistance to you, please contact us at any time," he wrote at the end.
---
Other stories you may want to read:
'There's a Target on Our Backs'-Black Conservative Kicked Out of Miami Restaurant for Political Views
Kamala Forces Attendees To Reveal Vax Status, Attacks DeSantis Over Freedom in Abortion Speech
Latest posts by Amanda Silvestri
(see all)