Pentagon Caves to Matt Gaetz, Kicks Off Pride Month By Canceling 'Family' Drag Show
A drag show that was supposed to be held on Nellis Air Force base has been officially canceled by Secretary of Defense Lloyd Austin and Chairman of the Joint Chiefs of Staff Gen. Mark Milley after being called out by Congressman Matt Gaetz.
The drag show, which was supposed to be held to mark the start of 'pride month,' was first put on the radar after Matt Lohmeier, who describes himself as the '1st veteran of the Space Force [and] author [of] Irresistible Revolution', made a tweet about the drag show, mentioning how the secretary of defense Lloyd Austin testified before congress that 'the DoD doesn't support Drag shows on military bases.' He also mentioned how there was no age requirement and that they have been hosting this show for three years, despite military generals saying they do not support the drag shows on bases.
CRY FOR HELP: Our military families need and are asking for our help!

The @SecDef Lloyd Austin recently testified that "the DoD doesn't support Drag shows on military bases." But that's not true.

For the third year in a row, Nellis AFB is hosting a drag show; it's one of many… pic.twitter.com/qQh3Pzlv9O

— Matt Lohmeier (@matthewlohmeier) May 19, 2023
After Lohmeier's tweet went viral, Gaetz responded with a video of him confronting Austin and Milley about taxpayer-funded drag queen story hour events being held on military bases. Once confronted, Austin said that "drag shows [are] not something that the [Department Of Defense] supports or funds." When confronted again by Gaetz about why these shows are happening on military bases despite the DOD not supporting them, Austin repeated the previous statement.
Lying Lloyd Austin https://t.co/aqGx8XljV1 pic.twitter.com/R5sSNtj7Jw

— Rep. Matt Gaetz (@RepMattGaetz) May 19, 2023
Subscribe to Florida Jolt Newsletter!
Later that day, Gaetz sent a letter to Austin and Milley regarding the past and upcoming drag shows on military installations.
The letter reads as follows:
Dear Secretary Austin and General Milley,

On March 29, 2023, during the House Armed Services Committee hearing on the "FY24 Defense Budget Request," I questioned you about diversity, equity, and inclusion (DEI) programs within the Department of Defense (DoD). I find it completely unacceptable that DoD is using taxpayer dollars to fund DEI programs that are divisive in nature. DoD resources should be used for mission-essential operations, not diverted toward initiatives that create cultural fissures within our service ranks.

When I highlighted specific cases of drag queen story hours and drag shows occurring on U.S. military bases, shockingly, you indicated you were unaware that such events are taking place. However, I am pleased to know you do not support these drag events and agree with me that they should not be happening. To aid you in executing the agreed-upon elimination of DoD-funded drag events, I have enclosed supplementary documents that further highlight the DoD's pervasive and persistent use of taxpayer dollars for drag events. I have also included questions throughout this correspondence, which I require answers to so that the House Armed Services Committee can conduct further oversight of this matter.
Gaetz then went into detail about six different instances of drag shows on military bases within the past year, along with questions that asked for more clarification on each event.
He finishes off the letter with the following paragraph:
Please provide answers to all questions posed in this letter and clarification on whether any punitive action has or will be taken against individuals who facilitated drag events with taxpayer dollars by June 12, 2023. I appreciate your attention and await your reply.
Join your fellow patriots and subscribe to our Youtube channel.
Then, on Wednesday night, the original poster of the now-viral tweet posted another tweet announcing that the event would not be held on the air force base. He also thanked members of Congress who stepped up to stop the event from taking place.
From the Nellis Air Force Base LGBTQ+ Pride Council:

"We have received notification that the DoD has directed commanders not to host drag events on military installations."

Thanks to those members of Congress who stepped up and took swift action and created positive change!… https://t.co/K0sM0cHyuU pic.twitter.com/VEKyGnLaXE

— Matt Lohmeier (@matthewlohmeier) June 1, 2023
Reactions from the news were celebratory, with Gaetz declaring a "huge victory" against the drag show and saying that tax dollars should not be funding these events on military bases.
HUGE VICTORY: The Department of Defense has CANCELED a scheduled "child-friendly" drag show after I demanded answers from @SecDef Austin and General Milley!

Drag shows should not be taking place on military installations with taxpayer dollars PERIOD!

READ:… https://t.co/YDByQihQod pic.twitter.com/vnJiuFlh2z

— Rep. Matt Gaetz (@RepMattGaetz) May 31, 2023
---
Other stories you may want to read:
Navy Officers Slam LGBT Pride Critics as 'A**holes' and 'Bigots'
Biden's DOJ Targets Republican West Virginia Governor's Family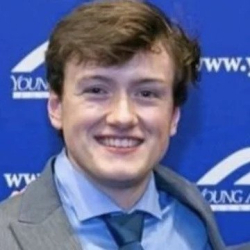 Latest posts by Simon Seidl
(see all)