Minority Mom Reads Graphic LGBTQ Novel To School Board
A new video has been making the rounds after a woman from Wake County, North Carolina, read a passage from the book 'Queer, 2nd Edition: The Ultimate LGBTQ Guide for Teens' to the Wake County Public Schools school board.
The book, which was written by Katy Belge and Marke Biescke and specifies on the back that it is 'written especially for LGBTQ teens,'  claims in the Amazon description that:
[Queer] is a humorous, engaging, and honest guide that helps LGBTQ teens come out to friends and family, navigate their social life, figure out if a crush is also queer, and challenge bigotry and homophobia. Personal stories from the authors and sidebars on queer history provide relatable context. This completely revised and updated edition is a must-read for any teen who thinks they might be queer or knows someone who is.
However, in the book itself, there are passages that go against the idea that this book is for teens. The caption of the tweet describes the featured video as 'GRAPHIC', with the caption warning potential viewers that the video shows someone describing the contents of the book, which 'discusses gay sex, using sex toys, kink, and BDSM.'
Crystal Amanchukwu, the woman featured in the video, reads a passage describing that 'there are a gazillion ways to have sex', it describes anal sex in detail and specifies that 'not all trans guys wear dildos' along with "clarifications" for different sexual orientations regarding types of sexual activity they do nor do not partake in.
GRAPHIC: An attendee at @WCPSS reads from the book "Queer" which is available to students in the school library.

The book discusses gay sex, using sex toys, kink, and BDSM.

These are the books they're offering your kids in school. pic.twitter.com/HokwdT0xTo

— Libs of TikTok (@libsoftiktok) June 8, 2023
Subscribe to Florida Jolt Newsletter!
Reactions to the video, which now sits at over 250k views, has people outraged, with many describing the video as 'absolutely outrageous' and that 'this is 100% inappropriate to children'.
Some people reacting took it a step further, making valid points about how the far left would classify people like Amanchukwu, who speak out against the sexual indoctrination of kids.
The face of far right extremism…. Minority mothers https://t.co/jjJ2XUGUXI

— Fatima Al Asliken 🌈🏳️‍🌈🏳️‍⚧️🧚‍♀️ (@assliken) June 8, 2023
Follow Florida Jolt on Twitter
One user decided to clarify their viewpoint on graphic sexual novels in schools, regardless of sexual orientation.
FYI – if the books were describing intimate graphic heterosexual sex I still wouldn't want them in a school library for kids to read. Don't sexualize kids at all! – @ScatPack500hp on Twitter
Another user questioned the sanity of liberal obsession with sexualizing kids.
Why are liberals so obsessed with sexualizing kids and sex in general? There is something seriously wrong with that.

— 🎞️🎼🎨📚💐Jo1393💐📚🎨🎼🎞️ (@Jo121325) June 8, 2023
— Batwing🦇🦇 (@Hexakitty666) June 8, 2023
Another user made a declaration as to where people that push this agenda on kids deserve to go.
When they talk about LGBTQ rights, they mean the right to shake their Wang in front of a five year old.

The right to chemically castrate a fourth grader.

The right to show porn to elementary school kids.

They belong in prison

— Jake 2.0 (@bigsky) June 8, 2023
As of the writing of this post, it is unclear if the Wake County Public School district made an official statement regarding the controversy of the book or if they are going to take it off the shelves or not.
---
Other stories you may want to read:
School District Discontinues 'Piss Christ' After Parents Fight Back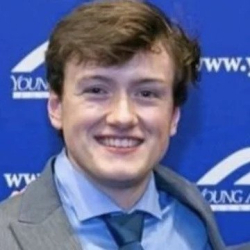 Latest posts by Simon Seidl
(see all)