Joy Reid Shredded After Claiming Harvard Only Admitted Her Through Affirmative Action
Joy Reid, an MSNBC Liberal anchor, recently got mocked after she admitted on air that she only got into Harvard because of affirmative action.
Reid, who has been under fire for ridiculous claims in the past, is now facing the heat from hundreds on social media after she tried to brag that she only got into Harvard because of her race.
Upon hearing this, many people reacted to the admission with humor, with many cracking jokes about the embarrassing moment.
One user reacted to the segment by challenging Reid's intelligence, saying that she did not need to tell anyone because everyone could figure it out after she started speaking.
She didn't really need to tell us. Everything she say tells us she didn't get there by being smart.

— Lavern Spicer 🇺🇸 (@lavern_spicer) July 2, 2023
She didn't really need to tell us. Everything she say tells us she didn't get there by being smart.
Joy Reid just admitted she only made it because of Affirmative Action.

This makes sense because she is Dumber than a Box of Rocks!

Race should not be a Qualification!

Raise your hand if you Agree ✋ pic.twitter.com/r1oGMPi70p

— Terrence K. Williams (@w_terrence) July 2, 2023
Subscribe to Florida Jolt Newsletter!
Other users decided to write out a more serious response, with one user saying what is now apparent after she admitted her embarrassing secret.
The only reason she got this job is AA. She brings nothing meaningful to the table other than race baiting.

— Johnny Connolly (@HereizzJohnny) July 2, 2023
Joy Reid is dumb as a rock. That is what is wrong with this country…powerful positions in the hands of the brain dead….like Joy and Joe guess who. 🙄 https://t.co/t9483r9JIj

— America is back! (@nancylee2016) July 2, 2023
Even with all the comedic and well-thought-out responses, some users went as far as to defend Reid and affirmative action, with one user giving an extremely bizarre reason why affirmative action is good.
Affirmative action was not a way to lower standards for college admissions. It was more like college recruiting for a sports team. Recruiters would go around the country looking for people who were good enough to attend Harvard.

The Supreme Court's decision to end affirmative action will make it harder for colleges to find the best students, regardless of their race. The people who will be most affected by this are White Women who have been the major beneficiary of affirmative action. – @ViceRoyMinstra on Twitter.
Many people jumped into the replies to mock this user, with one saying that this response was 'absolute nonsense.'
Absolute nonsense. Recruiting for sports is based on MERIT, ABILITY, and you know that.

The ideal for America is equality of opportunity, not the racist "equality of outcome" and endless grievances that your pals on the left want to keep in place forever.

— Silence Dogood (@Venturin62) July 2, 2023
Another user asked a question that would be difficult to understand if one did not have common sense.
Do you think that people who are genuinely not prepared academically to attend a particular school should just get in because of a quota? What do you think that will do "for" them?

Genuine question.

— Deplorable "MAGA Extremist" (@_Truth_Matterz) July 2, 2023
Other reactions include a user who tried to challenge CJ, the man who posted the now-viral clip of Reid, by asking him his age and then the following question:
You do realize that years ago, even if you had amazing scholastic abilities, high grades and great scores, you would NOT have been allowed into certain universities because you were a Black Person? – @IRCards3 on Twitter.
This reply immediately backfired, with many users dunking on the person for making such a ridiculous response.
Key word – YEARS AGO. Good thing we don't live in the "years ago" days and in the NOWADAYS.

— K (@uRdsprt4attntn) July 2, 2023
Other users decided to be more specific, giving detailed responses on how this kind of thinking is illogical.
Even years ago it wasn't all about lowering standards. Once that started happening, blacks were labeled by everyone believing we didn't get where we are because of being qualified. It got so bad that some jobs that whites got with a diploma required blacks to have a college degree. – @sfsmith17 on Twitter.
Another user echoed these sentiments by mentioning Asian discrimination in college admissions.
You do realize it's the exact opposite nowadays ? Where an Asian person with amazing scholastic abilities & higher scores will now be turned way for someone with less abilities but a darker skin [color]? Point is it was wrong then & it's wrong now. [People] should be accepted on merit. – @_vana_dee on Twitter.
It is unclear at this time if Reid has responded to the backlash from her affirmative action comments.
Join your fellow patriots and subscribe to our Youtube Channel.
---
Other stories you may want to read:
Former Anheuser-Busch Exec Calls for CEO to Resign After Mulvaney Fiasco
Disturbing Video Shows Trans Biological Male with Erection in Women's Restroom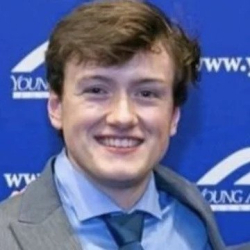 Latest posts by Simon Seidl
(see all)