Fans Furious-Jeopardy Boobs Can't Answer Simple Question About Lord's Prayer
Fans of the game show 'Jeopardy!' were outraged after none of the contestants could answer a question about The Lord's Prayer – which is very easy.
The players,  Joe, Laura, and Suresh, could not answer a commonly cited prayer among Christians. The question, which host Mayim Bialik said, goes as follows:
Matthew 6:9 says, "Our Father, which art in heaven, [THIS] be thy name,"
Subscribe to Florida Jolt Newsletter
The question was worth $200 under the category 'Dadjectives.' The $200 questions in each category are considered the easiest questions in each category, making the deafening silence among all three contestants more damning in the eyes of Christians.
Immediately after Biyalik answered, fans on Twitter started writing out their frustration and disappointment at the contestants' inability to answer the question.
One user called out the Jeopardy guests by sarcastically calling them 'geniuses' with the user saying the correct term in the same tweet. The same user also declared it was a 'sad world we live in.'
Hey, Jeopardy geniuses…It's HALLOWED. Sheesh, what a sad world we live in.

— watchfuleyez3 (@ron33623438) June 14, 2023
Another user claimed they were 'screaming' at their television because they found it so ridiculous that no one knew the answer.
Screaming Hallowed! They didn't know the "Our Father." #Jeopardy

— 🇹🇹🇹🇹🇹🇹 (@CJG_TT) June 13, 2023
Other users were shocked, with one user saying the answer and reacting with the phrase 'shockingly easy one.'
The puzzle, worth $200, read, "Matthew 6:9 says, 'Our Father, which art in heaven,' This 'be thy name.'"

Shockingly easy one 😲

— Woke Golden Boy (@wokegoldenboy) June 15, 2023
Another user wrote, 'Oh my.' However, some users decided to turn this instance into a political matter, with one user writing:
Maybe cause none of them are Christians. It's not the national religion no matter what the nationalist what to believe. – @RyanMedinaX on Twitter
The user, who claims in his Twitter bio that he is 'barely a human being at this [point]' was met with scathing comebacks, with one user pointing out that they are not from Nevada but know the state capital,  indicating that just because you are not from a specific background doesn't mean you will not know certain things.
I'm not from Nevada but I know its state capital – @jcapital54 on Twitter
Join your fellow patriots and subscribe to our Youtube channel.
Another user decided to go into detail on how the 'barely human' individual made an incorrect insinuation.
The show is about general knowledge. One doesn't have to be a Christian to know the Lord's Prayer as this is a majority Christian nation. One doesn't need to be catholic to know the pope is the head of the Catholic Church, or Jewish to know what a synagogue is. – @latteconsrtve on Twitter
With some users reacting with anger and some users in an avid discussion about the challenge level of the question, one user decided to take a different approach to this incident, with them stating that this might have to do with the pronunciation of the word, with it being possible that the users did not know if it was pronounced as 'hallowed' or 'hollowed.'
#Jeopardy
Nobody got this but I'm sure they all knew it but were worried about the PRONUNCIATION.
"Hallowed" or "hollowed" pic.twitter.com/9WCiT7uG2J

— Mike Fly (@mfly1971) June 13, 2023
Even with it being no way to prove that the pronunciation of the word was what caught up with the guests on the game show, one thing is sure. The contestants did not offer an answer to an easy question, which many found appalling. It is unclear if Jeopardy! has any plans to react to the backlash from many Christians or if they have any plans to interview the contestants to ask how they missed that question.
---
Other stories you may want to read:
"Stop pussy-footing around:" DeSantis CALLS OUT Gavin Newsom
Professor Accused of Sex With Dog – 'I Do It to Blow off Steam'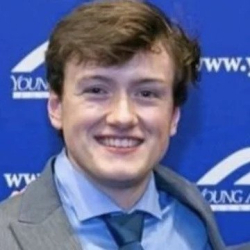 Latest posts by Simon Seidl
(see all)