Dylan Mulvaney Whines, Blames Bud Light, Anheuser-Bush Responds With Snub
Controversial transgender influencer Dylan Mulvaney is getting Bud Light into more hot water after he responded to the backlash, claiming that 'trans people like beer too.'
Mulvaney addressed the debacle to his 1.8 million followers on Instagram, claiming he had something to address, then mentioning that Bud Light is a company he 'loved.'
After claiming to love the company, he details how Mulvaney was waiting for the brand to reach out to him, but they never did, adding that he has been scared to leave his house.
He then declares to his followers that what Bud Light did to him was awful, saying,
For a company to hire a trans person and then not publicly stand by them is worse than not hiring a trans person at all. [I]t gives customers permission to be as transphobic and as hateful as they want. [There] should be nothing controversial or divisive about working with us. I have been ridiculed in public, I've been followed, and I have felt a loneliness that I wouldn't wish on anyone.
Subscribe to Florida Jolt Newsletter!
Anheuser-Bush responded to Mulvaney with a statement not mentioning the controversial transgender, which many consider an intentional snub.
As we've said, we remain committed to the programs and partnerships we have forged over decades with organizations across a number of communities, including those in the LGBTQ+ community," an Anheuser-Busch spokesperson said. "The privacy and safety of our employees and our partners is always our top priority. As we move forward, we will focus on what we do best – brewing great beer for everyone and earning our place in moments that matter to our consumers." ~Anheuser-Bush
Mulvaney also declared that trans and queer people are 'customers too' before adding that 'turning a blind eye' isn't an option.
He also attempted to call out his critics, saying that these people were responsible for 'more bullying and Transphobic than I could have ever imagined.'
He then went on about the infamous Bud Light beer can featuring his face on it, saying that he hid the can due to the backlash the company received and subsequently losing the can.
I realized that I needed to protect this can so I hid it somewhere and I can't find it because I hid it so well. But when I do find it, I feel like it needs to go in a museum, preferably behind bullet-proof glass. One thing I will not tolerate people saying about me is that I don't like beer because I love beer and I always have.
After showcasing his thoughts, he concluded the video by saying he would love something productive to come from this situation while encouraging viewers to visit the Transgender Law Center website to donate in honor of trans people and pride month.
Dylan Mulvaney finally responds to BudLight backlash.

In a video drinking a beer he says that the infamous can featuring his face needs to go "in a museum behind bulletproof glass."

He also called out critics for "'more bullying and Transphobic than I could have ever… pic.twitter.com/3JsinjLtxY

— Oli London (@OliLondonTV) June 29, 2023
Reactions from the response video were swift, with many people writing out their thoughts about Mulvaney and the entire situation.
One user went into detail on how it was odd that he made this video, accusing Mulvaney of wanting 'more press and for people to keep talking about it, instead of letting it die down and going about their life.'
Dylan making the video now seems like they want more press and for people to keep talking about it, instead of letting it die down and going about their life.

— Jessamyn Dodd (@jessydodd) June 30, 2023
One user pointed out Mulvaney's time on The Price is Right, saying that if one had seen his appearance on the show, it would be easy to tell that Mulvaney is 'desperate for attention.'
If you've seen his appearance on The Price is Right, when he had not done his transition, you can tell how desperate his need for attention is.

— TowntoCountrywithTanya (@CountrywithT) June 29, 2023
Another user shared their thoughts differently, declaring that Mulvaney is a 'grifter' and trying to seek his '15 minutes of fame' by surrounding himself with the continued controversy.
This guy is nothing more than a grifter. Always has been. Seeking that 15 minutes of fame and all the endorsements and money that may come along with it.

— Jason 🇺🇸 (@jasbrando) June 29, 2023
Join your fellow patriots and subscribe to our Youtube Channel.
---
Other stories you may want to read:
'Queer' Pediatrician Admits 'Gender Affirming Care' Causing Bone Disease, Infertility
'Landmark' Study-Suicide Rates, Mental Illness, Higher Among Transgenders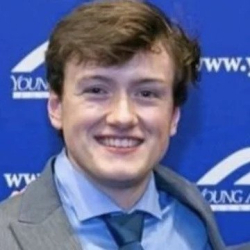 Latest posts by Simon Seidl
(see all)