Biden Under Fire For Refusing To Acknowledge His Grandchild
The current president is facing heat following a report that Biden's aides have been told to say publicly that he only has six grandchildren, omitting Hunter Biden's 4-year-old estranged daughter.
The report, which was revealed by the New York Times, details the experience that Lunden Roberts and her four-year-old daughter, Navy Joan Roberts, faced from the Biden administration after a paternity case was reopened last September since Hunter Biden sought to cut his child support payments to Lunden Roberts.
The New York Times describes the experience as a 'tale of two families', adding that it is about 'money, corrosive politics and what it means to have the Biden birthright.'
Roberts and Biden ended a yearslong court battle over child support on Thursday – agreeing that Mr. Biden would turn over several of his paintings to his daughter and provide a monthly support payment. According to court documents, the little girl will select the paintings from Mr. Biden.
Subscribe to Florida Jolt Newsletter!
Since then, the Biden administration has given out no acknowledgment of the existence of their seventh grandchild. As the New York Times report points out, the president's public image is centered around his devotion to his family — including to Hunter, his only surviving son. In strategy meetings in recent years, aides have been told that the Bidens have six, not seven, grandchildren, according to two people familiar with the discussions.
During a 'take your child to work day' event at the White House, President Biden was caught saying, 'I have six grandchildren, and I'm crazy about them. And I speak to them every single day. Not a joke.'
Reactions from many to the New York Times piece called the report 'sad' and 'awful' – with many also giving detailed input about the findings.
One user described this as 'the crappiest thing parents [and/or] grandparents can do to a child!' They followed this up with a statement on how this could protect her from the disturbing antics of President Biden and his son.
This is the crappiest thing parents/grandparents can do to a child! However, for that little girls… Safety, it's probably better if they do ever meet, that she's not left alone by herself with either of them.

— Lesley Cutshaw (@CutshawLesley) July 2, 2023
Another user questioned the president's thinking by asking how the president could do this to his granddaughter when she has done nothing wrong.
What an absolute disgrace. I get that Hunter is hopeless but how can Joe Biden not have a relationship with his granddaughter who did absolutely nothing wrong? https://t.co/ljlWV7hHSX

— Marc Thiessen 🇺🇸❤️🇺🇦&🇹🇼 (@marcthiessen) July 2, 2023
One user replied by saying the same thing but towards the Biden stocking situation.
How can they hang those stockings of all the other grandkids names on them at Christmas time publicity and not even acknowledge her? It's sickening and she will see and read all about it as she grows up. The Bidens are TRASH – @ashleykaycromer on Twitter.
Another user gave a detailed response about being in the girl's shoes and to 'set aside politics' so it can be adequately imagined.
Set aside politics and put yourself in the shoes of this 4 year-old. "She's aware that her father is Hunter Biden and that her paternal grandfather is US president. She speaks about both often, but she has not met them." No one should do this to a child. https://t.co/XOvtH6IV5B

— Timur Kuran (@timurkuran) July 2, 2023
Follow Florida Jolt on Twitter
A user completely ignored the 'set aside politics' part and bizarrely replied to the tweet, claiming that Hunter Biden was the victim since the woman made every effort to 'trash the father.'
Nah…the mother has made every effort to trash the girls father and in turn the grandfather whilst holding out her hand for $250k per annum for her daughter. [I] would not want to associate with the mother who is untrustworthy and the child is under her control. – @Est2Est on Twitter.
The user immediately got dunked on, with responses on how the father is trash due to the bad things he has done, with one user saying it was good news since 'she doesn't have to worry about grandpa sniffing her and sneaking into her shower.'
The Biden administration has not made any official response to this new report as of the writing of this article.
---
Other stories you may want to read:
Disturbing Video Shows Trans Biological Male with Erection in Women's Restroom
'MADNESS:' Oregon Social Workers Use 'Preferred Pronouns' in Description of Missing Kids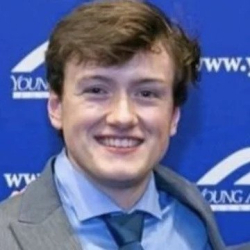 Latest posts by Simon Seidl
(see all)