Belarus to Chemically Castrate Convicted Pedophiles
Pedophiles will have to undergo chemical castration, according to Belarus's new criminal code that the Belarusian government has just greenlighted.
The General Prosecutor's Office of Belarus announced the impending measures, revealing that chemical castration will be incorporated into the treatment program for pedophiles. The announcement via Telegram comes just as the government approved the new measures, signaling a decisive step in the nation's approach to dealing with convicted pedophiles, RT reported.
The new amendments, which the Interior Ministry reportedly prepared, mentioned the idea of 'compulsory treatment of persons suffering from pedophilia.' Some of the compulsory treatments include an action plan made by the Health Ministry that involves 'a clinical protocol containing an algorithm for the treatment of pedophilia, including the use of chemical castration,' adding that rehabilitation methods for the victims will also be included in the action plan.
The amendments come after recent data from the Belarusian Prosecutor-General's Office revealed that more than 3,500 children have become victims of crimes against sexual integrity over the past five years. ECPAT, which is an organization that mentions that it wants to '[work] together to End the Sexual Exploitation of Children,' revealed that INTERPOL data singles out Belarus as the Eastern European country with the most number of children identified in child sexual abuse material. They also mention that there were 91 identified victims in the year 2013.
The Health Ministry's action plan also stresses that the Belarusian leader Alexander Lukashenko has been advocating for laws like this, with the report saying that Lukashenko indicated the following:
[O]n the study of issues related to strengthening the responsibility of parents; definition of administrative responsibility for propaganda of non-traditional sexual relations, sex change, pedophilia and childfree; introduction of a mandatory course on the topic of sexual education of children and youth into the educational process; strengthening control over previously convicted persons, including with the use of electronic bracelets.

Subscribe to Florida Jolt Newsletter
Chemical castration of pedophiles is not new, with laws allowing chemical castration existing in some US states, Canada, Denmark, Germany, Norway, Sweden, and other countries. According to a report that was posted on the site PagePress, most places that have legalized chemical castration use a drug called Leuprolide acetate. This is a drug that binds to a part of the brain that is most responsible for directing the testicles to produce testosterone and which in turn helps reduce testosterone production. This drug has been proven to be effective 'in lowering paraphilic sexual thoughts and behaviors.' In the same study that has proven that chemical castration drugs actually work, they also mentioned that psychotherapy and drugs like Leuprolide acetate had been proven to be a 'useful treatment' when reducing pedophilic sexual urges.
Reactions from the news on Twitter have been celebratory, with one user saying that this law will be perfect and is the most appropriate way to take care of the perpetrators.
Belarus will put into law that pedophiles will receive chemical castration. This is a good law and is very much how you take care of these "people" 🇧🇾🇧🇾🇧🇾💪💪💪💪 pic.twitter.com/KJ7X4OoyFU

— @garibaldi_the_great (@flamingarrow98) June 21, 2023
Join your fellow patriots and subscribe to our Youtube channel.
Many users also reacted to the news with clapping emojis and celebratory remarks.
One user went as far as to call out American culture by saying that while Belarus is castrating evil pedophiles, we are castrating children.
Belarus will start chemically castrating pedophiles. Meanwhile, Americans are chemically castrating children.
Belarus will start chemically castrating pedophiles.

Meanwhile, Americans are chemically castrating children.https://t.co/vwmDwhZCsY

— Lauren Chen (@TheLaurenChen) June 20, 2023
It is unclear if Biden will respond to this new law being passed anytime soon.
---
Other stories you may want to read:
[Video] McDonald's Employee Retaliates-Throws Drink in Customers' Face
'Two Tiered Justice System' America Reacts to Hunter Biden's 'Sweetheart Plea Deal'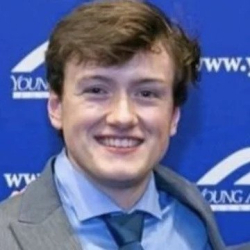 Latest posts by Simon Seidl
(see all)